Teaching Excellence Framework
The London College delivers teaching, learning and outcomes for its students that meet rigorous national quality requirements for UK higher education.
The Quality Assurance Agency for Higher Education (QAA)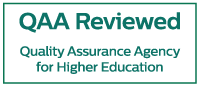 Higher Education Review (Alternative Providers): The London College, UCK Ltd, April 2016
Judgements about standards and quality
The maintenance of the academic standards of awards offered on behalf of degree-awarding bodies and/or other awarding organisations meets UK expectations.
The quality of student learning opportunities meets UK expectations.
The quality of the information about learning opportunities meets UK expectations.
The enhancement of student learning opportunities meets UK expectations.
Report published May 2018
Click here to read this institutions latest review report
ASIC, Accreditation Service for International Colleges

We are accredited by the ASIC as a Premier College in the UK.
University of Derby

The London College is an approved partner of the University of Derby.
The University of Derby has been awarded Gold in the Teaching Excellence Framework (TEF).
The Teaching Excellence Framework (TEF) has been developed by the Department for Education in England for recognising excellent teaching, in addition to existing national quality requirements for universities, colleges and other higher education providers. It provides information to help prospective students choose where to study.
The TEF has been introduced by the UK Government to encourage and raise the profile of teaching excellence in universities and colleges, and is intended to help students choose where to study by providing clear information about teaching provision and student outcomes.
You can study for University of Derby Degree at our campus in London.

Institution of Civil Engineers
The Civil Engineering degree award is Professionally accredited by the institution of Civil Engineers. Holders of this degree will be fully satisfying the educational base for the Incorporated Engineer (IEng) Membership. Please refer to: www.jbm.org.uk for further information.
Pearson

The College is an accredited Pearson centre for BTEC qualifications.
Pearson is the world's largest education business and the owner of the Edexcel, Financial Times and Penguin.
Pearson is the UK's largest awarding organisation offering qualifications to schools, colleges and employers internationally.
UCAS Membership

The College is a member of UCAS.  Our Institution Code is L62.